Getting Here
To our valued customers, MINI of Santa Monica wishes to advise you of the following transportation options and nearby services and amenities available while your vehicle is being repaired or serviced. We encourage you to consider these options while we take care of your MINI.
HANG OUT HERE / ON FOOT
Coffee Commissary – Located right here inside our dealership, Coffee Commissary is a cafe serving up delicious coffee, teas, and other beverages. Coffee Commissary also offers a variety of food options.
Our Neighborhood is an Exciting Place to Explore! – Within a one-half mile of MINI of Santa Monica (about 10-minute walk), you will find a wide range of convenient local services, cafes/restaurants, and other amenities. See below for what our neighborhood has to offer! We are close to, but not limited to:

Truxton's American Bistro (across Santa Monica Boulevard)
Memorial Park (2 blocks north on Wilshire Boulevard at 15th Sreet)
Tacos Por Favor (3 blocks south of the intersection of 14th Street and Olympic Boulevard)

 Live or Work Close By? – If you live or work within a mile of MINI of Santa Monica, we are only a 20-minute walk from home or place of work. Our neighborhood is full interesting things to see while you enjoy a stroll home or back to work!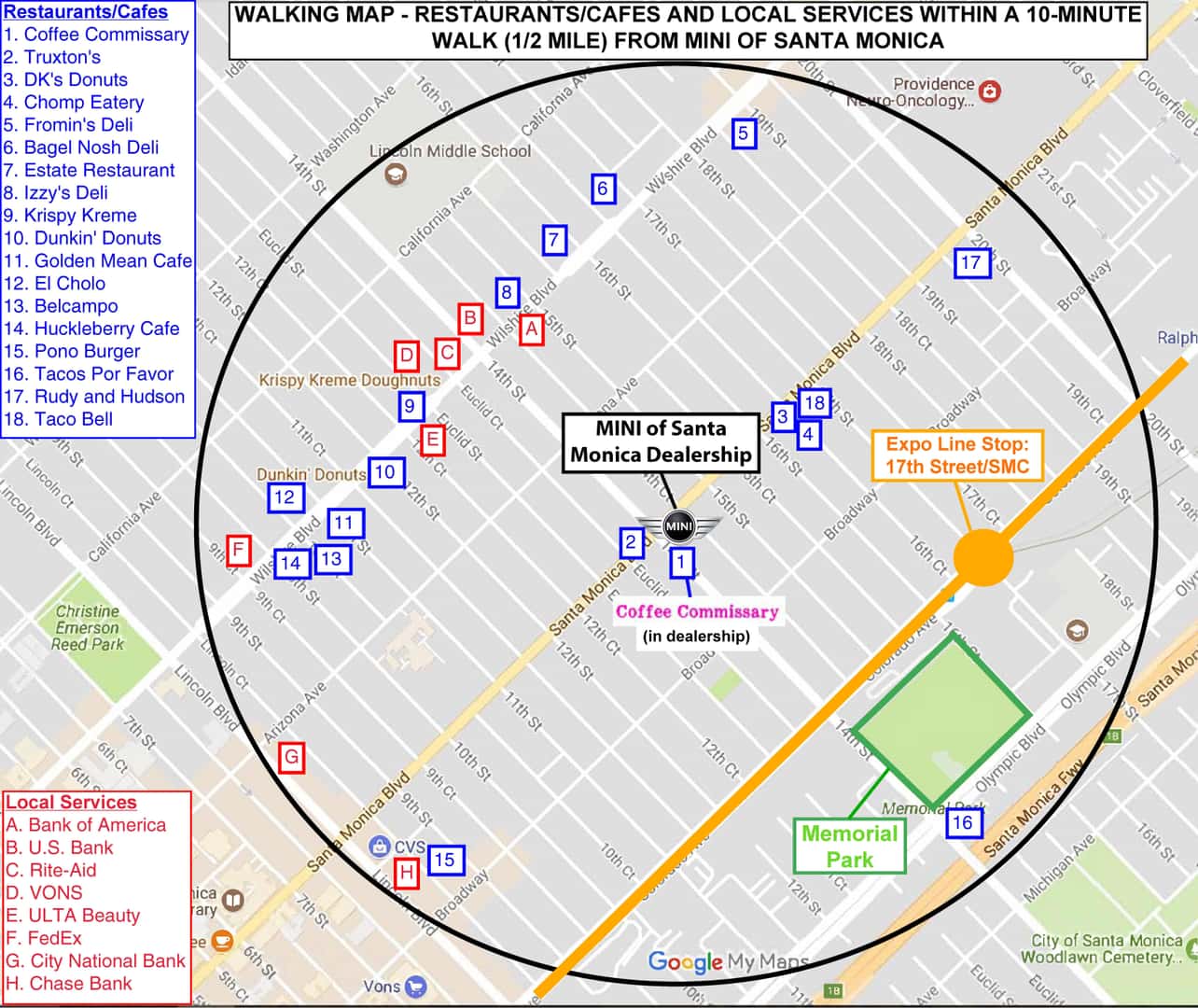 BICYCLE
Dedicated Bicycle Lanes – See below for a map of the city's bicycle lanes. These are the bicycle lanes closest to MINI of Santa Monica:

14th Street from California Avenue to Pico Boulevard features bicycles lanes on both the northbound and southbound sides of the street and additional bicycle infrastructure is located father North and South on 14th Street.
Arizona Avenue and Broadway. One block north of MINI of Santa Monica on Arizona Avenue and one block south of Broadway, there are bike lanes that run from Downtown Santa Monica all the way to the City's eastern boundary at Centinela Avenue.

Breeze Bikeshare – There are public shared bicycles available at Breeze Bikeshare hubs located at the following nearby intersections:

Wilshire Boulevard and 14th Street
Broadway and 16th Street
Santa Monica Boulevard and 11th Street
PUBLIC TRANSPORTATIONS
The Expo Light Rail Line station at 17th and Colorado is located less than a 10-minute walk from us! And both the Santa Monica Big Blue Bus and Santa Monica L.A. Metro have bus lines that serve MINI of Santa Monica.
Expo Light Rail – From its 17th Street Station, the Metro Expo Light Rail can take you to Downtown Santa Monica (approximately 4 minutes), Downtown Culver City (approximately 15 minutes) and Downtown L.A. (approximately 43 minutes)!
Santa Monica Big Blue Bus – Big Blue Bus #1 has a stop right outside MINI of Santa Monica connecting you to UCLA and on the other side of the street to Venice. Big Blue Bus #5 has a stop near the intersection of 14th Street (about a 6-minute walk)
Metro Bus – Metro Rapid Bus #720 has a stop at the intersection of Wilshire Boulevard and 14th Street (about a 6-minute walk) connecting you to Downtown Los Angeles, Koreatown, Park La Brea, Beverly Hills and Westwood all along Wilshire Boulevard.